SPONSORSHIP AMOUNT:
Your gift of $35 a month helps us to provide nutritious meals and life-saving support to street children, children living in abject poverty, single mothers, or elderly people in desperate need.
WHAT YOUR SPONSORSHIP PROVIDES:
Your monthly sponsorship helps to feed and provide emergency relief to children, single mothers, or elderly people who desperately need life-saving assistance. We provide nutritious meals to these individuals. In addition we routinely assess their situations so that we may work to find long-term solutions that will sustain and provide a better life for them.
We can fill their hungry bellies for a moment, but that doesn't take care of the long-term problem. We are committed to finding ways to better their life and change the course of their future.
The most important gift that we can give these individuals is hope through Jesus Christ. Our team disciples, encourages, and works to strengthen the family unit and each person individually. We go the extra mile to find whatever resources we can to help bring them in to a better life.
In addition, we will send you updated information on the progress of your sponsored individual several times a year.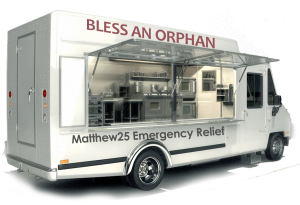 (More info about the Matthew 25 Feeding Program.)
Frequently Asked Questions
Will I be the only person sponsoring this child?
Yes. Whether you choose a child, single mother, or elderly person – YOU are their only sponsor!
What happens to the sponsored individual if I must discontinue my sponsorship?
We will immediately look for a new sponsor so that their sponsorship continues without interruption. You may choose to cancel your sponsorship at any time.
How long will they receive sponsorship?
Depending on the situation. If it is a child, sponsorship can continue until they are 18 years old. However, circumstances change and the child may move to another location out of our reach. Whatever the situation may be, we routinely check the circumstances and if a child or individual is no longer available for sponsorship, we will contact you as soon as possible so that you may choose another individual that needs your help.
Can I communicate with my sponsored person or child?
Absolutely! We encourage sponsors to send letters, photos, and gifts to their sponsored individual.  Your communication is a extremely important for them to see that someone cares about them enough to help change their circumstances.
If you would like to ship a special gift, letter, or photos to your sponsored person, all packages should be under 7lbs. and can be shipped to our U.S. headquarters in Vero Beach, FL.
Bless An Orphan
(Address To Be Announced)
Vero Beach, FL 32966
Please note on your package the sponsorship identification number.
WHAT DO I NEED TO DO IF I NEED TO CANCEL MY SPONSORSHIP?
You are free to cancel your sponsorship at any time. You may call our office at 877.290.2508 during our office hours, Monday through Friday, 8:30am – 5:30pm to speak to a representative.