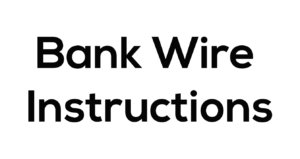 ---
Please follow the instructions below to send a domestic or international wire transfer.
Name of Beneficiary: Bless An Orphan, Inc.
Mailing Address: PO Box 261, Vero Beach, FL 32961, USA
Physical Address: 9045 Americana Way Ste. 39, Vero Beach, FL 32969
Phone: 877-290-2508
Bank Name: Suntrust
Bank Address: 800 43rd Avenue SW, Vero Beach, FL 32968, USA
Phone: 772-410-2171
Bank Account #: 1000056165003
Swift Code: SNTRUS3A
---
Instructions for donor: Please contact our office at 877-290-2508 or email: support@blessanorphan.com to notify us of incoming wire transactions so that we may notify you immediately when the funds have been received or, if there has been any delays.
Please send us your name, address, phone number, email, amount, and date of wire.
Thank you and God bless you for your compassion and generosity for these children. We appreciate you.