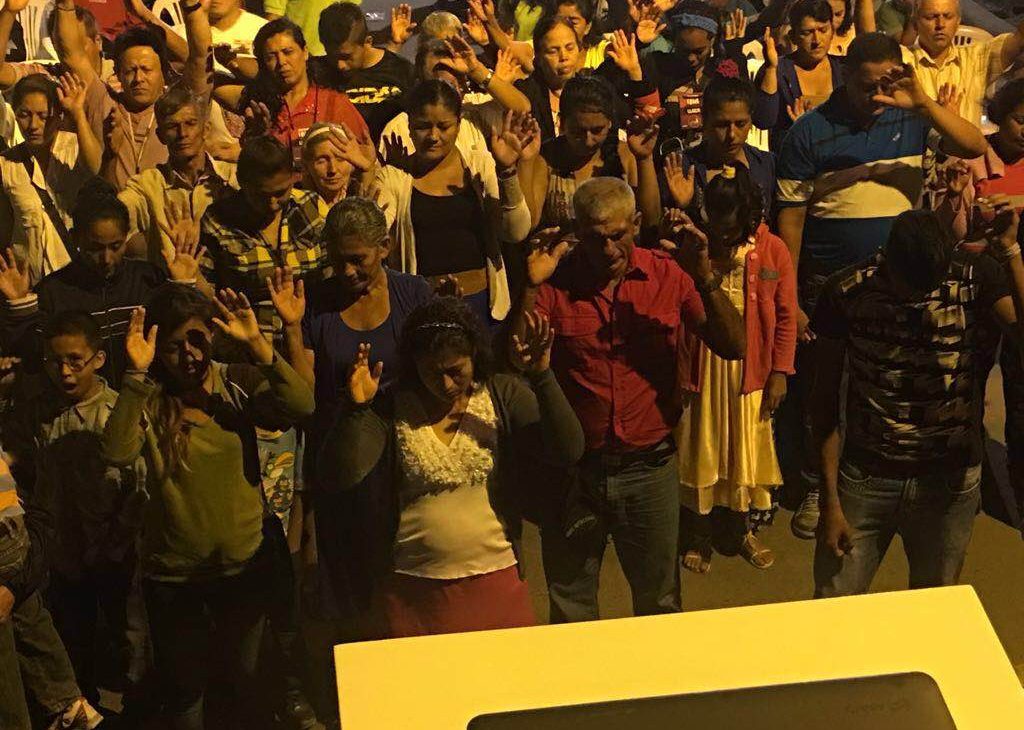 Be joyful in hope, patient in affliction, faithful in prayer. Romans 12:12
We've all faced a storm in our lives. Those dark clouds come rolling in. The waves start to build. The boat begins to rock. You feel you may drown. You question when the skies will part again and so you feel the sun warm your face once more. Our stormy seasons can be short, sometimes they are longer than we could have ever imagined. The intensity of the storm is a reflection of your assignment.
What drives people to still praise Jesus and be thankful in the midst of their storm?
I've held the hand of a bed ridden, dying woman in Africa. She was nothing but skin and bones, couldn't have weighed more than 70lbs. She was dying of AIDS and had tuberculosis. She was coughing blood and writhing in pain while I sat there and held her hands and prayed God would heal her. I felt for a moment complete despair as I looked in to her longing eyes, holding on to a glimmer of hope that she would be healed and her suffering would stop. In her pain, she still praised the Lord. She was patient in her affliction.
You may have heard me tell this story before of a little girl who was in our care that had been repeatedly raped from a very young age by her father, uncles, and men in the community before she had been brought to us. She was always smiling and singing. I asked her one day why she was always smiling and singing, she said because Jesus loved her. She went on to tell me that she had forgiven those who hurt her because Jesus had forgiven all of her sins. Can you imagine the depth of pain her young heart had been carrying? Yet, she was joyful in hope. She believed the words of Jesus and trusted Him for her healing.
There was a very poor elderly lady who had gone a week without food. She was frail and weak. She had lived a long life, very hard at times, but she was ready for Jesus to end her suffering. That morning she had laid down on her bed and asked the Lord to either do a miracle so she could eat another day and live, or to let her die and take her home, either way she was going to praise Him for saving her. A few hours after saying that prayer, my dear friend who worked with us in ministry at that time, and I arrived at her home. We had no idea who she was or her condition. We were in the Caribbean Islands taking supplies to homeless, needy, and single mothers as part of our feeding program.  All I knew is that the Lord gave me instructions that day to go to the countryside, find a little shack with red door, and bring food. When we arrived at the home, this sweet little elderly woman answered. She was so weak she could barely walk and could hardly speak. We entered her home with bags of food. We told her that Jesus sent us to bring her relief. She never said a word, but tears ran down her face. We unloaded the food for her and said a prayer over her. She then told us what she had prayed that morning. She said that she was 90+ years old and that her days were few, she was ready to meet Jesus, but He was so good to her that one last time He answered her prayers to show her how much He loved her. In her affliction, she was patient. She remained faithful in prayer.
The picture you see is of the precious people on the coast of Ecuador who have lost everything in the earthquake in April 2016. Thousands in this community are still without. They are sleeping in make shift tents, card board boxes, or whatever they can find. The only relief they receive is what we are able to take to them each month because of your generosity. Yet, they still praise God for His goodness and mercy. They thank Him because He hasn't abandoned them.
I've been so blessed by the lives that have touched mine with their endurance and faithfulness. They are constant reminders to me that while in the storm to keep my thoughts and my words focused on the One who is steering my boat. I've felt the enormity of the ocean, being tossed to and fro in the rough turbulent waters. I know what it feels like to feel so under water that it is only your mouth that is slightly above, just able to take in a little air to stay alive. Those feelings of despair are real. It's not that we won't go through those trials. Surely, Jesus reminded us that we would. "Indeed, all who desire to live a godly life in Christ Jesus will be persecuted." 2 Timothy 3:12  It is what we do in the storm that determines our outcome and our sustainability for the next storm!
James 1:2-4, 12 "Count it all joy, my brothers, when you meet trials of various kinds, for you know that the testing of your faith produces steadfastness.  And let steadfastness have its full effect, that you may be perfect and complete, lacking in nothing. Blessed is the man who remains steadfast (or perseveres) under trial, for when he has stood the test he will receive the crown of life, which God has promised to those who love him."
Embrace the storm. Allow God to use it to cleanse you. Rough waters will turn up and push out all kinds of debris. God will use a storm in our life to do just that, if we allow Him. Your steadfast faith (in word and deed) will be the very thing that catapults you to the next level. It will also shine a light to the world on the love, mercy, and grace of our Creator.
So, you may be asking what happened to the lady dying of AIDs and TB, the little girl who had been brutally raped, the elderly woman, and the people on the coast? Well, the lady dying of AIDs was healed. God did a miracle for her and He used this ministry to provide the medical care she needed to gain strength and live a longer life. God saw her through the storm.  The little girl is still smiling and singing about Jesus. She has grown up to be a mighty warrior for God and is sharing her testimony so that others can be healed. God saw her through the storm. The dear sweet elderly lady has graduated and gone home to be with Jesus. She ran her race well and finished with a "well done good and faithful servant." God saw her through many storms. The earthquake victims on the coast are still praising Jesus through their storm! They are gathering in droves to hear the gospel and give their lives to Christ. They are singing and praising Him, even when they are suffering and are in great need. Jesus will see them through their storm! God answers prayers, and He is using people like you to help us reach these and many others who are hanging on and keeping the faith.
Whatever you're facing today, you're not alone. There is no storm too big that He cannot navigate. He commands the winds and waves to obey Him! Put your complete hope and trust in Him today. Jesus is so kind, gentle and loving…He will fill you with hope because you have trusted Him. We want to pray for you. If there is a particular need that you have that you would like for us to pray for, please email us at Prayer@BlessAnOrphan.com.
Stay the course. Keep the faith.