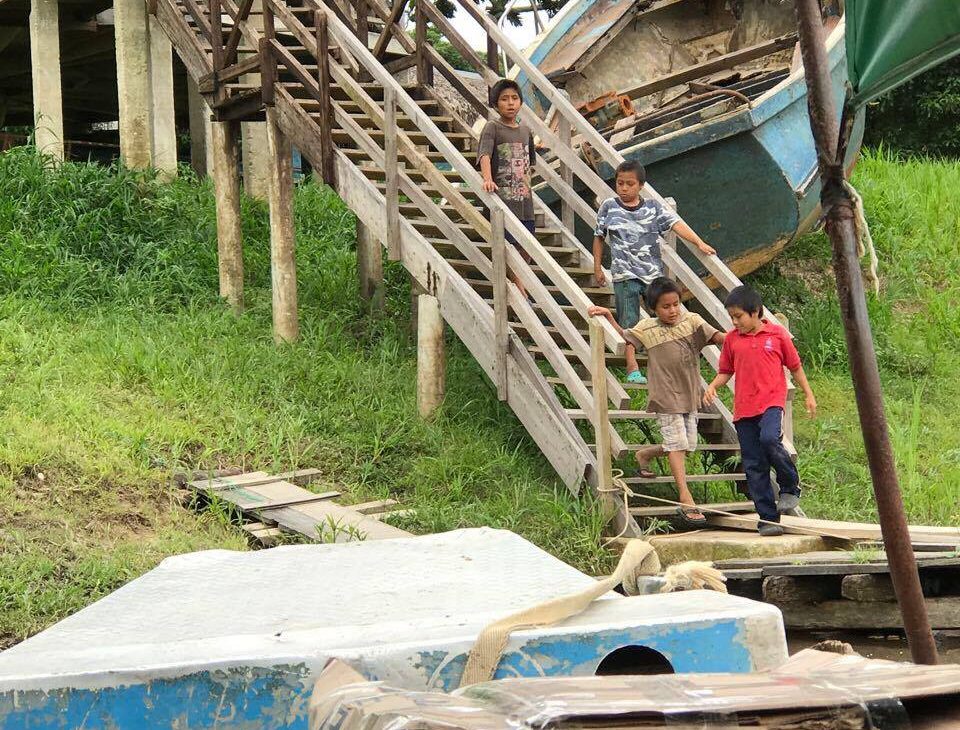 Supplies arrive by boat and the kids are excited! The only way in to the boys home in Iquitos, Peru is by boat. You can imagine the excitement they are all feeling that renovations have started and very soon they will all have new beds. This is the only home they have. The only family to call their own. The gratitude for what YOU are doing for them is indescribable. We need 72 mattresses to accommodate all the boys. So far, we've had people donate for 12 beds. We have 60 more to go.
We stepped out and started renovations on the bungalows where the children sleep, tore apart the bathrooms because they were sinking and the sewage was a big problem, and next week we are preparing to tear out the entire front side of all the bungalows and reconstruct with concrete. The wood is rotted and not safe. Predators of all sorts are trying to make their way in at night while the kids are sleeping, through the rotted wood.
We took a leap of faith to get all this done before we had any of the funding. I've learned in the years of doing this, that's the only way to get it done. It's putting faith in to action, trusting God each step of the way to provide for all of the needs. We do what we can do as we are able, but we don't sit back and wait for it to come. You have to activate your faith and put it in to motion. You can't say, "I'll give Lord when you give me more to give." It's the other way around. I'll give Lord when I don't even have anything to give, because I know you will bless my sacrifice, and fill my storehouse to overflowing so I can give more to help others in need. Watch what happens when you walk in that kind of faith.
Step out and trust God in every area of your life. If you're waiting on something to happen, chances are you're going to keep on waiting. God responds to movement. Movement indicates you trust Him completely.
"For we live by faith, not by sight." 2 Corinthians 5:7
Esther risked her own life for the sake of others. She stood up for those who were hurting and oppressed and risked the death penalty to help rescue the Jews. She walked by faith and night by sight. She didn't allow the physical obstacles and threats to put fear in to her heart which would have immobilized her to do anything. Yet, she moved forward, in confidence and with faith that God would deliver her and the people.
You can never go wrong and will never fail when you live by that kind of faith.
Pray for us, please. Pray for the children we serve. And pray that others will join this mission to help us so that we can continue fighting on their behalf. If you would like to bless a child today, we would be so grateful for your support. Also, please share our posts and our page so others will join in the mission to rescue lives.