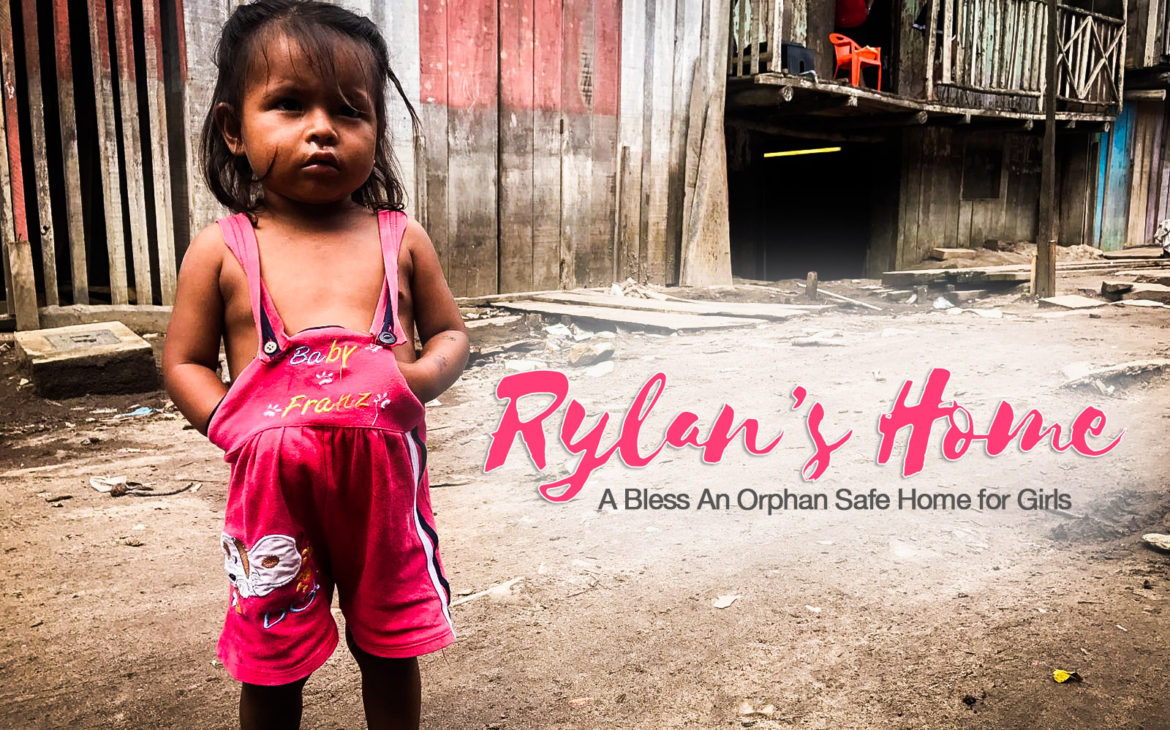 Dear friends,
This is a tough newsletter to write after what I just experienced and saw. I'm sickened by what's happening, and disgusted that there isn't enough being done. There are video links throughout this newsletter. Please take a minute to watch. There is nothing explicit to see, but the content is disturbing – in case you have little ones listening.
"Karissa, they are selling little girls for just a few dollars. Girls are being trafficked every day. There are no homes for them." This is what I heard over and over from our mission's coordinator to Peru. It wasn't that I didn't believe him; I just didn't realize how bad it was until I saw it for myself.
Leaving the airport in Iquitos, Peru, there is a huge billboard that says something to the effect of "Don't traffic children. It's punishable by law." I wish I would have snapped a picture, but I was so exhausted from 19 hours of travel, I didn't think to do it. I did however get this picture on our way out, which you can find at the gates in the airport. It says, "Behind bars; Iquitos. It's not the same. Here the sexual exploitation of children is punished. Having sex with minors is paid with jail." If you have to have signs and billboards at the airport addressing this issue it tells me two things. This is a HUGE problem in this area and there are a lot of people flying in just for that reason. Both, I discovered to be true.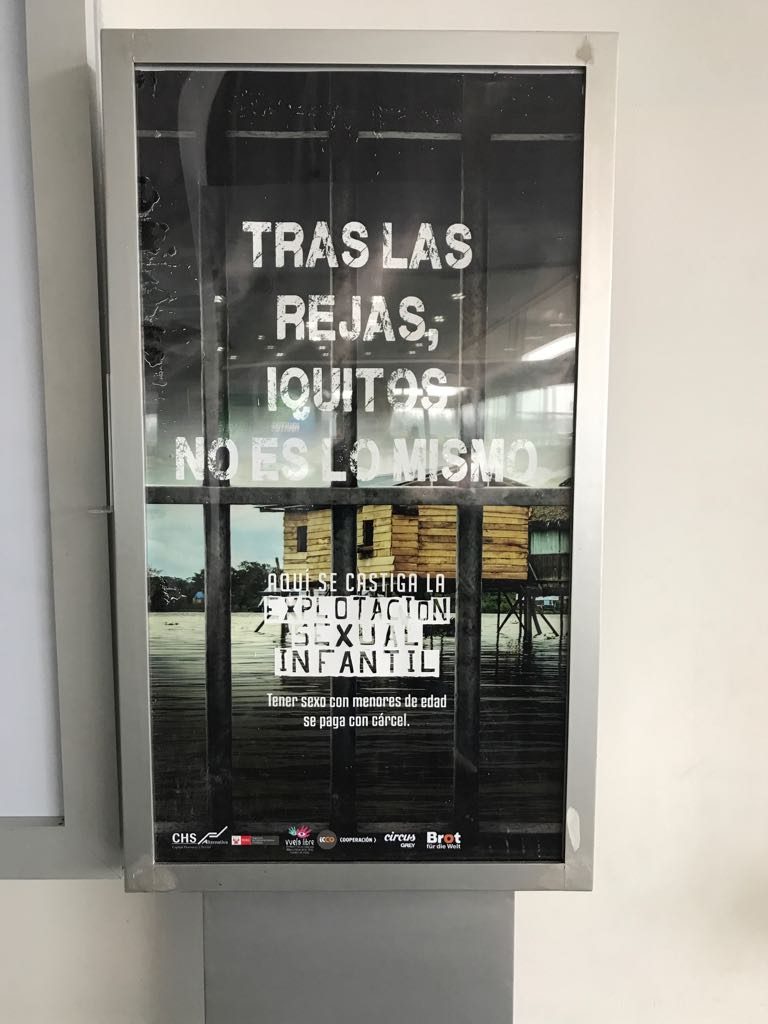 I spoke with numerous people from this region that shared stories with me that were absolutely horrifying. I was told that many wealthy American's and Europeans fly to Iquitos specifically to hunt down children for sale.  Some taxi drivers and other scum of the earth present photo albums of children, fetching a higher price for virgins.
It was recommended that I hire an armed guard to travel with me, because we would be going in to some of the most dangerous areas. He took me to places where men are paying less than $2 for girls. Two dollars! They take them out on canoes and boats on the Amazon and then return them once they are done. With disgust, I was presented photos of evidence to back up the claims. This is a hard realty to face, but we can't close our eyes to what is happening.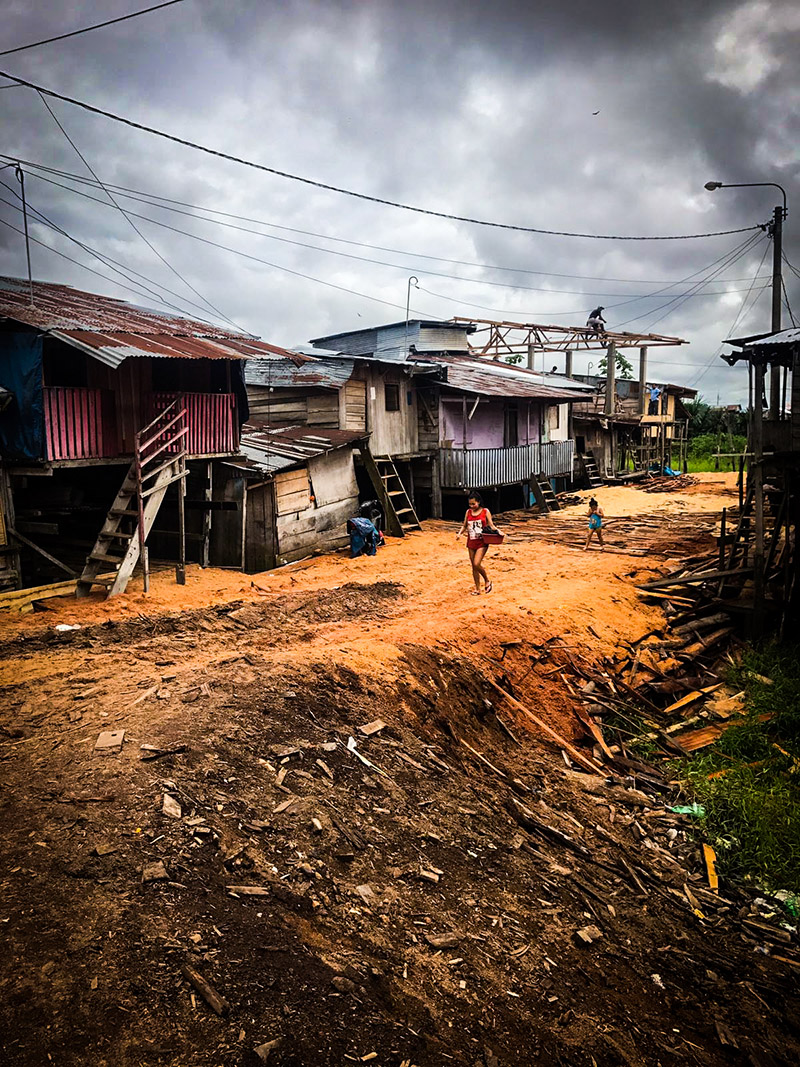 I was able to pass by areas where the girls are being exploited and I saw live videos playing outside of what is going on inside. It made me utterly sick to my stomach and exceptionally angry. I choked back tears, trying to keep it together. I wanted to run inside and pull these girls out of this horror, and issue a beating to the men exploiting them.  I would have never made it out alive. If you're wondering why we didn't involve the police, well, there is a police station sitting on the corner. They know. Here's a short video of us driving through one of the areas.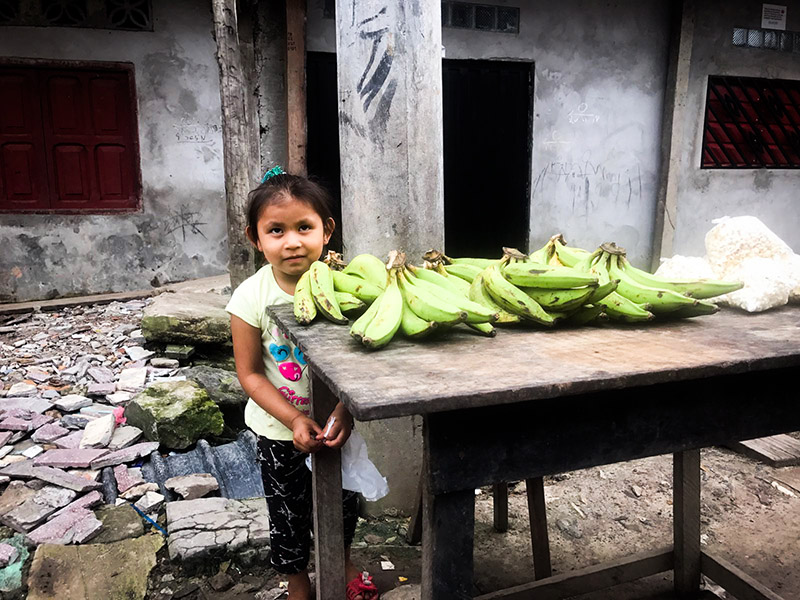 The overall "spiritual" feel is dark, menacing, and a strong sense of perversion. My heart absolutely broke over the extreme poverty and deviance that I saw. The foul smell of decaying trash takes your breath away. This is an extremely poverty stricken place. Truly heart breaking.
I've already started the legal process to open the safe house for girls. I found a rental facility that needs A LOT of cleaning and painting, but otherwise is a secure and solid place to start immediately housing girls. Ideally, I would like to buy land and build something outside of town, but it will take time to raise the funds to accomplish this goal. We don't have time to wait. So in the meantime, our 2 year plan is to rent this facility as we find the right land and raise the funds to buy and build. The owner was asking $1,600/mo. for the property. I negotiated a deal to pay $1,000 for the first 6 months, $1,200 for the following 6 months and then increase to $1,400 the second year. For the size and security of the building compared to other locations, it looks like we've made a pretty good deal. Now, we need to get this place cleaned up, painted, and ready to start receiving girls.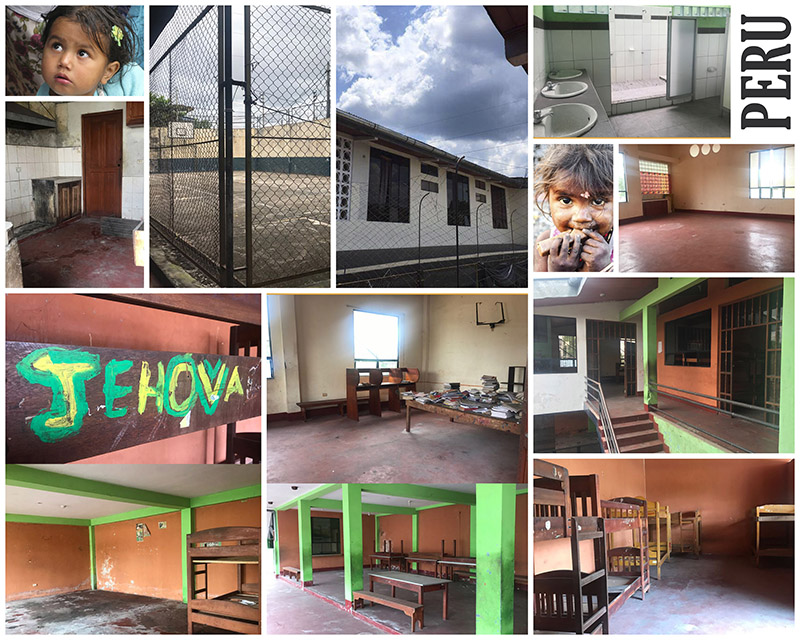 Take a tour of the facility and watch the videos:
This property was once a home for boys that shut down because of lack of funding. They are leaving behind some bunk beds that we can make use of. They aren't in the best shape, but we will clean them up, paint them and put them to use.
We'll also need to purchase more beds, mattresses, bedding, refrigerator, stove, tables, chairs, pots, pans, dishes, utensils, cups, etc.  I'm just concerned about getting the bare necessities right now so that we can start receiving children. As the Lord provides, we can provide better for their care.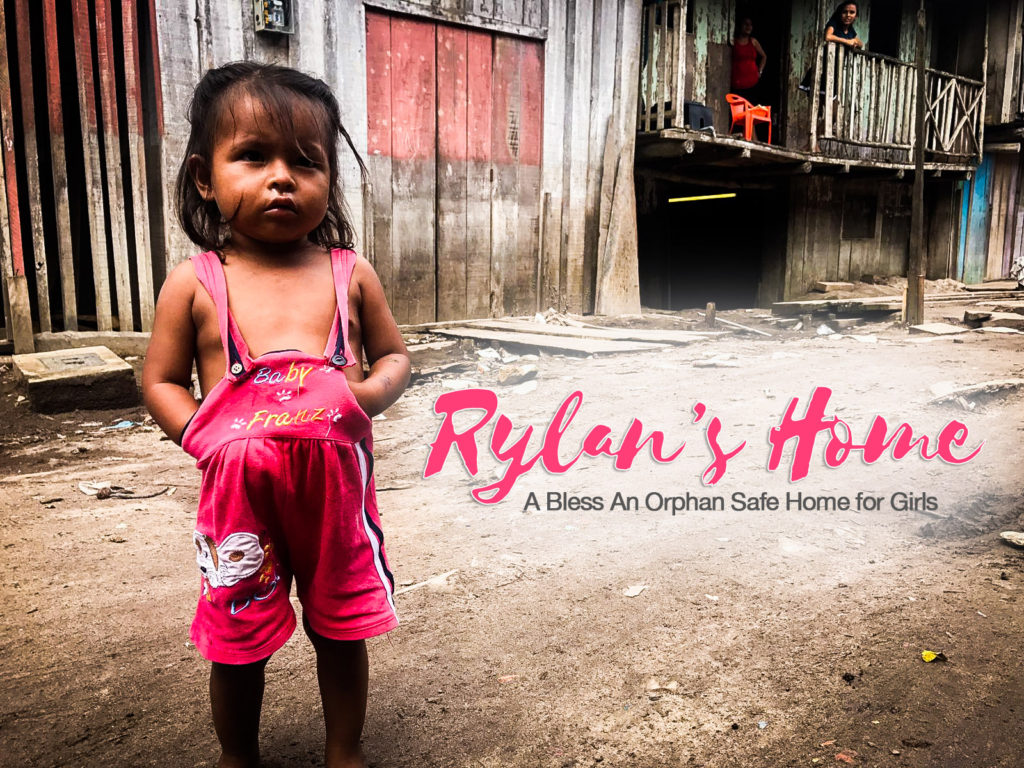 We are calling this home "Rylan's Home ~ A Bless An Orphan Safe Home for Girls." We are naming the home after the daughter of dear friends of ours who served with us as missionary volunteers in Ecuador. Rylan was one of a kind. I don't say that flippantly. She truly was a unique, precious, beautiful, kind, loving, and compassionate young lady. She loved Jesus with every breath she breathed, and wanted to serve Him by helping others, especially babies and children. Many times as we served food to the homeless, I would watch her eyes well up with tears as she served each of them with a smile. Rylan spent time in Peru on a mission's outreach where she was going to train to become a midwife to the poor. Some of her time was spent in Iquitos. She returned to tell her parents that her heart broke over what she saw there and that one day she wanted to return to help all the little girls and young mothers who were being exploited. Rylan was never able to fulfill that dream. She passed away suddenly, at the age of 19 at her home in Ecuador on Feb. 22, 2017, from complications with epilepsy. The devastation to her family has been immeasurable. Many mourn the passing of this sweet precious young lady who wanted to commit her life to serving God by serving others. It's our honor to name this home after her, and in some way, help to fulfill the dream she had for these girls. Ironically, it wasn't until we started working in Iquitos that I learned that Rylan had spent time specifically in this area and had this desire to return. Her family returned to the US after her passing, and her mother shared with me Rylan's heart for Iquitos, once she learned we were working in this region. Isn't God amazing? He brings everything full circle and fulfills His purpose. So, with our deepest heart felt honor and love for our dear friend, Rylan, we name this home after her.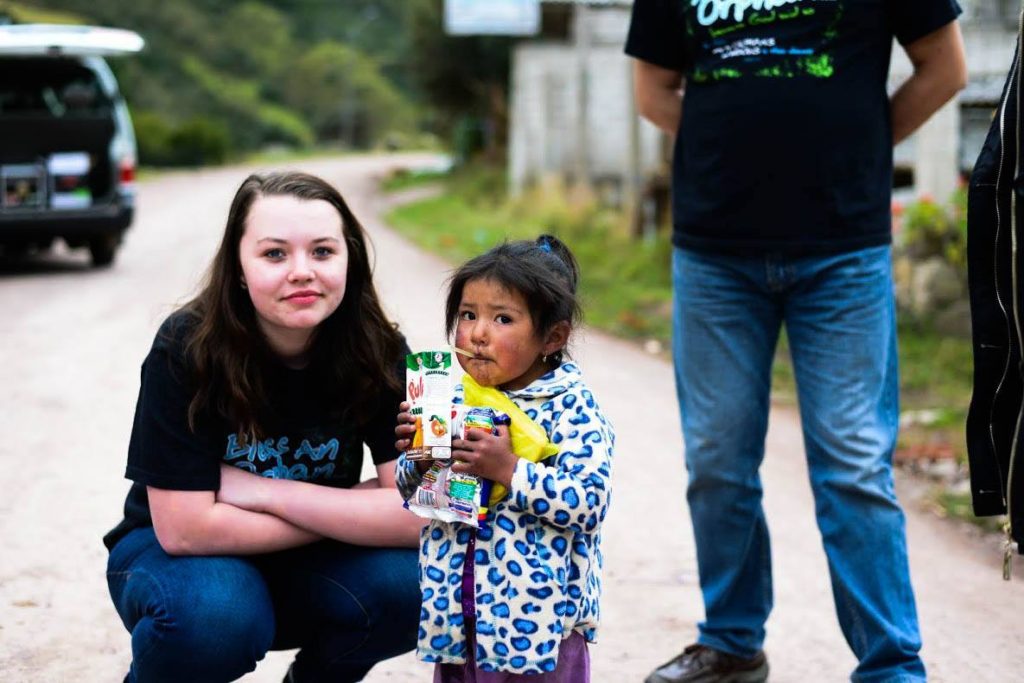 (Rylan, pictured in Ecuador in 2016. Her love for Jesus and her compassion for the poor was so pure.)
If you've stayed with me and read this far, it's because your heart is filled with compassion for these little girls too. I've always strive to just be real and honest with you. Marshall and I are people just like you, that stepped out and said we must do more, God send us! God did send us and He continues to use you to help keep us going. We can't open this home unless people like you are moved with compassion and give generously. Our support comes from individuals – we don't have big organizations, ministries, or churches who commit monthly to funding our missions. We walk by faith and trust the Lord to meet all of our needs, including raising this big beautiful family of children He has sent us. Which I know are going to start stirring any moment now. I woke up before the sun to start this letter, because my home starts stirring early with little feet prancing and little hands knocking on the door wanting breakfast. Our youngest is 3 years old. She's been with us for a year. When I look in to her big beautiful brown eyes I sometimes wonder what her life would have become had God not brought her home to us. I cannot fathom that children her age are being exploited and sold for just a few bucks. Now that my eyes have seen the need, I've walked where they walk, I've touched their hands, I can't walk away. I can't turn my back and say, "Someone else will have to do it. It's too hard. It costs too much." I can't walk away. So, I humbly ask for your help.
Here's a quick breakdown of what we need now.
$4,500 to finish all the legal work – we are half way through.
$1,000 per month for rent for the first 6 months.
$4,000 we are estimating for paint, cleanup, and minor repairs.
$3,850 per month to meet the minimum staff requirements.
Also, before we open the doors we need:
Beds, mattresses, bedding, refrigerator, stove, tables, chairs, utensils and plate ware, linens, basic necessities, etc. We are estimating these bare essentials to cost anywhere from $12 – 15,000.
(Iquitos is essentially and island. The only way in is by plane or boat. It sits in the Amazon. So, the cost of goods to purchase or transport are a bit more costly because they have to be brought in by boat or plane.)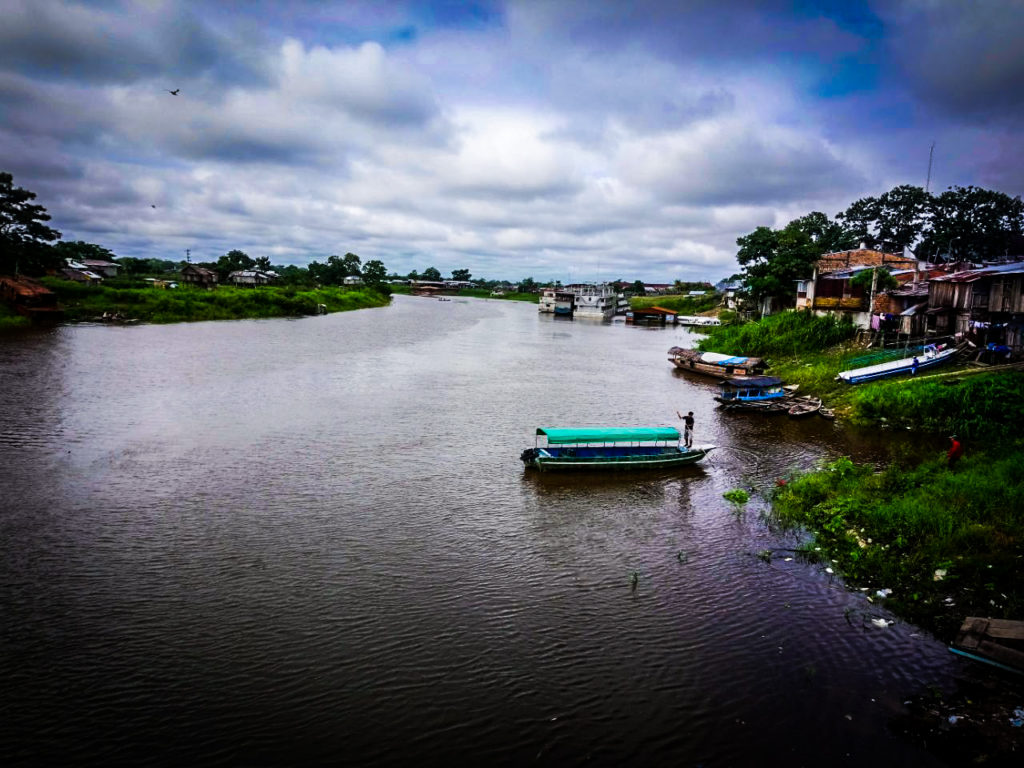 Let me share with you one more thing that is SUPER exciting about this mission in Peru. We are working with the government, and should everything go as planned, and all of our requirements are met, we will be granted permission to facilitate adoptions within a year or so. THIS makes my heart soar! Adoption is so very close to my heart. I'm thrilled to think there is a possibility to help find families for some of these girls. Our lives have been blessed with the adoption of 8 children. Far from easy, and every day presents new challenges, adoption has graced our lives with incredible blessings. Please pray for this opportunity, that all will work together for the good, so that we can help find families for the girls that come in to our care and are available for adoption!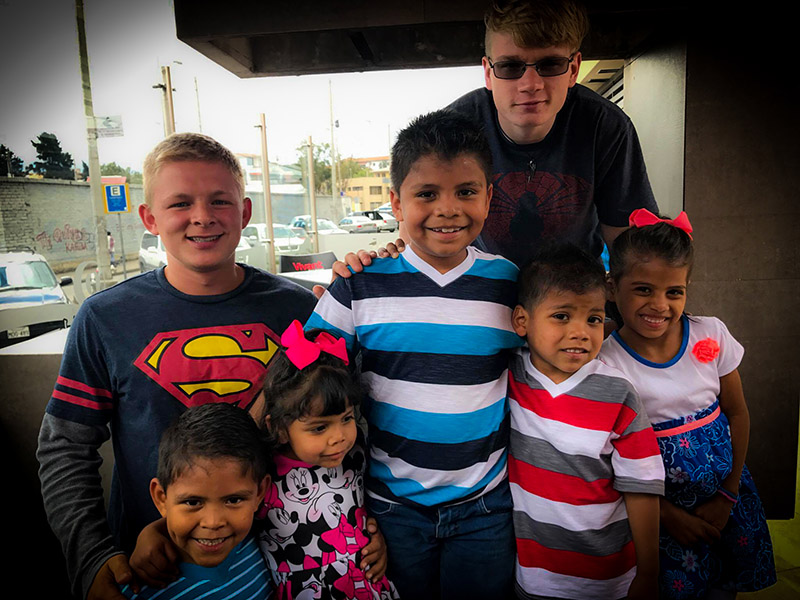 (7 of our 8 – our oldest daughter, Kiarra is 21 and lives in Tampa, FL.)
We are looking for volunteers that are interested in long and short-term work, but we have an up and coming mission trip opportunity in August!  Volunteers will spend two weeks helping to get Rylan's Home cleaned up, painted, and ready to open the doors. You'll also be helping to serve in the communities through our Matthew 25 feeding program. We are limited to 20 people. If you are interested, please contact us today! Support@BlessAnOrphan.com
Please pray and ask the Lord how you can help be a part of this mission. Not everyone can go, but everyone can do something to be a part. YOU fuel this mission. YOU give us the resources to keep going and get the job done. We are so very, very grateful. Thank you for being a part of this life saving mission. Every story that I will be able to share of how a little girl was rescued from a life of exploitation, will be because you helped save her.
We appreciate you.
Karissa Washburn
(Before sending this out, we received a call from our Attorney in Peru. He said our legal status will be finished soon and would we be ready to take girls in the next two weeks! YIKES! We aren't ready. I had to tell him to slow down. We really need your help to get everything in order. Please consider today how you can help this LIFE SAVING work – rescuing girls from trafficking, prostitution, homelessness, and those who are orphaned.)
You can give securely online:
CLICK HERE
To give directly through Paypal.com, send to:
SUPPORT@BLESSANORPHAN.COM
Send a check or money order to:
Bless An Orphan
PO Box 261
Vero Beach, FL 32961
CALL:
877-290-2508
BANK WIRE TRANSFER:
CLICK HERE