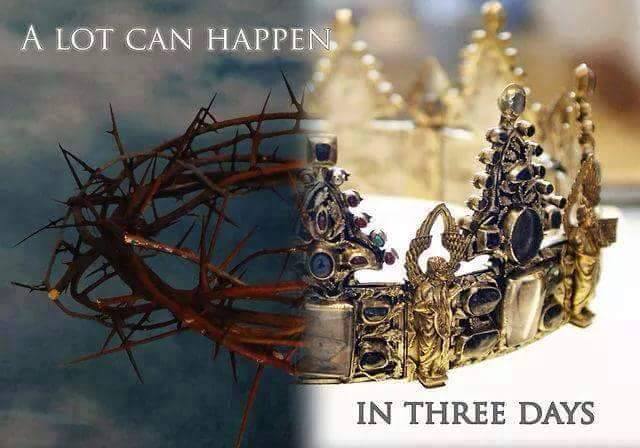 This was so well written by one of our Missionaries, Stephanie Steubing. It's worth the read!
As I write this it is Thursday evening April 2. The very first Easter or Resurrection Sunday occurred on April 5th of the year 33 AD (on our current Gregorian calendar) and was called the 14th of Nisan back then. This is a fairly rare event that we would celebrate the death and resurrection of our Lord on the actual anniversary. Right now on Thursday evening Jesus was partaking of the Last Supper with his disciples and then would go on to be betrayed by Judas in the garden. Just a short while after midnight on Friday he would have withstood 7 trials. By sunrise Peter would have betrayed him three times and by 9 am the crucifixion would have begun. At noon the three hours of darkness would begin, ending at 3 pm with His death. It was a dark and terrible day. The earth shook and the veil in the temple was torn in two. All who partook in the death of this man Jesus realized at this point that He indeed was the Messiah.
I am writing all this to say this. KNOW who you are celebrating this Sunday. Remember and reflect. Think about and spend time with this man named Jesus. He is SO precious to me. Leaving behind all my comforts and securities has taught me something I could have never learned any other way. When He's all you have, He's all you need. We are living in a time (the times I believe are the signs of the imminent return of Jesus) where being called a Christian is only as weighty as the conviction you put behind the label. Just this morning 147 Kenyan Christian men and women were executed when asked the question "are you muslim or Christian?" If they said Christian they instantly went to see the Savior they bravely and willingly would not deny. Are you ready to do the same? Persecution is not coming, it's already here. It's exactly what Jesus said would happen. Yes, it's in the United States, it's in Europe, Asia, the Middle East and Africa. Politics will not stop it, change it or slow it down. It's here to stay. I don't want to seem negative or gloomy, in fact I feel the opposite about it. In Matthew 24 when the disciples asked Jesus how they would know when the time of His return was near Jesus Himself had this to say about it: "Then you will be handed over to be persecuted and put to death, and you will be hated by all nations because of me" Matthew 24:9 I think it's safe to say many, many Christians RIGHT NOW the world over are dying because they profess the name of Christ. This moment many precious men and women of God are being imprisoned and tortured and killed because of one name. The name of God's only son Jesus.
Remember that this Easter Resurrection Sunday. Establish in your heart that you know Him. Really KNOW Him. My love for Him is so great and I feel so passionately about Him because of what He has done for me. I was a mess. A BIG MESS! A broken girl who needed a lot of healing and restoring. My life was literally saved by this man named Jesus. I owe it all to Him. I can't take communion without becoming overwhelmed at what He did for me. For you too. He thinks you are precious and beautiful and your life has so much value. I am NOT ASHAMED. I am so humbled and honored to say that I am a follower of Jesus of Nazareth, the one and only son of God. May you be BLESSED this Good Friday, Passover and Resurrection. HE LIVES. ~ Stephanie